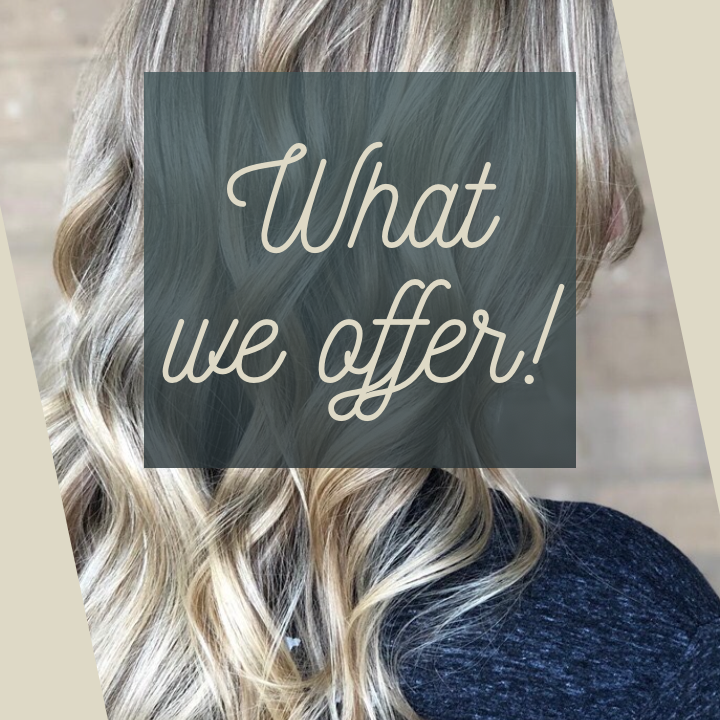 Services
HAIR SERVICES
WOMEN'S CUT
(shampoo/blowdry included)
Senior Stylist $50
Master Stylist $55
WOMEN'S TRIM
(drycut)
Senior Stylist $35
Master Stylist $40
MEN'S CUT
Senior Stylist $20
Master Stylist $22
MEN'S BEARD TRIM
$10
MEN'S BEARD TRIM/STRAIGHT RAZOR SHAVE
$15
BOY'S CUT (9 and under)
Senior Stylist $18
Master Stylist $20
GIRL'S CUT (9 and under)
Drycut $25
Shampoo/Blowdry included $30
BLOWDRY STYLE $35
FORMAL STYLE $65
ADD ON HAIRCUT WITH A COLOR SERVICE
Senior Stylist $35
Master Stylist $40
CHEMICAL SERVICES
FULL FOIL $140+
(toner included)
PARTIAL FOIL $105+
(toner included)
MNI FOIL (10 or less) $65
(toner included)
COLOR RETOUCH $65
ALL OVER COLOR $85
(short hair)
ALL OVER COLOR $100
(long hair)
BALAYAGE $150+
(toner included)
PARTIAL BALAYAGE $130+
(toner included)
Vivid Color $75/hour ($10 each additional color)
ALL OVER TONER $45
DEEP CONDITIONER $25 - $45
HEATCURE TREATMENT $45
CORRECTION COLOR
(Upon Consultation)
TEXTURIZING
Brazilian Blowout $250
(performed by certified stylists)
Regular Perm $90+
(cut included if performed on the same day)
WAX SERVICES

Eyebrow Wax $12
Lip Wax $10
Chin Wax $10
Full Face $30
HALOCOUTURE HAIR EXTENSIONS
HALOCOUTURE Extensions are beyond luxury. They have revolutionized the world of extensions with The Original HALO which is designed with comfort in mind. The easy application of the HALO will transform your hair in a matter of seconds. This innovative Extension is non-damaging and virtually undetectable. HALO's are made with 100% Remy Human Hair, allowing you to style and wash your HALOCOUTURE Extensions just like your natural hair. The newly expanded color collection now offers more than 30 shades of Original and Balayage Colors, ensuring a seamless blend with your own hair. Whether you want to extend your length, add volume, or enhance your color, The Original HALO is the perfect extension for everyone.
*Call today for a free consultation*
*WHAT IT MEANS TO BE A REDKEN SALON*

REDKEN is one of the TOP professional hair colors in the US. Being a REDKEN salon, means we are supported by REDKEN, and trained throughout the year by some of their top educators. The world of hair is forever changing, and we work very hard to keep up with the latest and greatest trends, as to help our clients achieve the color they desire. We do this, while also keeping the integrity of the hair our top priority!